Where to see i.a.t.B
FRIDAY 22ND MARCH 2019
Ensemble i.a.t.B's next performance will be at St. Mary de Crypt church, Southgate Street, Gloucester, on Friday 22nd March 2:00p.m where we will be providing processional music and hymns for the re-opening of the church following the extensive restoration and refurbishment of this beautiful historic church.
FRIDAY 14TH JUNE 2019
St. John's Church, Northgate Street, Gloucester
We are pleased to have been asked to return to the GLOUCESTER MUSIC FESTIVAL where we will be playing one of our typically varied programmes spanning several centuries of entertaining music.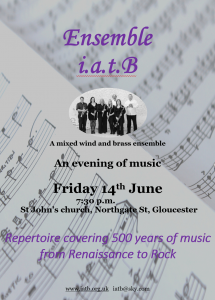 THURSDAY JULY 11TH 2019
THE DOG HOUSE, HIGH STREET, CAERLEON.
Ensemble i.a.t.B will be performing an evening concert as part of the annual CAERLEON FESTIVAL.
Further details to follow – please visit www.caerleon-arts.org